Introducing Vanessa Simms
Relax and Revive Therapies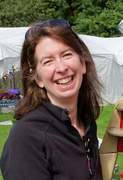 Hello and welcome.
My journey from being interested in complementary therapies and having the odd treatment, to actually leaving my full time office job to pursue a new career in something I love and that helps people, has been pretty amazing so far!
Getting stuck in a rut after 13 years of stressful office work, made me search for something 'interesting' to do in my spare time.  That's when I discovered Reflexology.
I was curious and amazed that simply pressing points on the feet could help something elsewhere in the body and be so deeply relaxing at the same time.  Eager to know more, I embarked on a year long Practitioner Diploma course in London with Nicola Hall at the Bayly School of Reflexology. I loved the fact that this school was established by Doreen Bayly, the lady who, after being trained in America by Eunice Ingham, was reponsible for bringing Reflexology to Great Britain in 1966 - what a great link to history!
I'm fortunate to have met some wonderful people since then, who led me to train in Maternity Reflexology with the internationally renowned Susanne Enzer at Soul to Sole Reflexology, Indian Head Massage with Sally Morris at On The Spot Training School and Holistic Massage with Dror Steiner and Sally Morris at the Bodyology School of Massage.
I regularly attend workshops to continue my learning and enhance my knowledge in both massage and reflexology.
In addition to this, I volunteer as a therapist for the Fountain Centre, in St Luke's cancer unit at the Royal Surrey County Hospital. As well as seeing private clients, I'm employed part-time as a therapist for the Phyllis Tuckwell hospice and work freelance for Mount Alvernia hospital in the oncology department. 
I am registered with the British Reflexology Association, the Federation of Holistic Therapists and am also registered with the CNHC (Complementary & Natural Healthcare Council).  These associations all have a strict code of ethics that I adhere to.
Qualifications
BRA Practitioner Diploma in Reflexology (level 3) - Bayly School of Reflexology
Indian Head Massage Practitioner Diploma - On The Spot Training School
Certificate of Competency in Maternity Reflexology - Soul to Sole Reflexology
MTI Diploma in Holistic Massage (level 4) - Bodyology School of Massage
Memberships
B.R.A. British Reflexology Association
F.H.T  Federation of Holistic Therapists
C.N.H.C. Complementary & Natural Healthcare Council
Course Accreditation
British Reflexology Association
Massage Training Institute